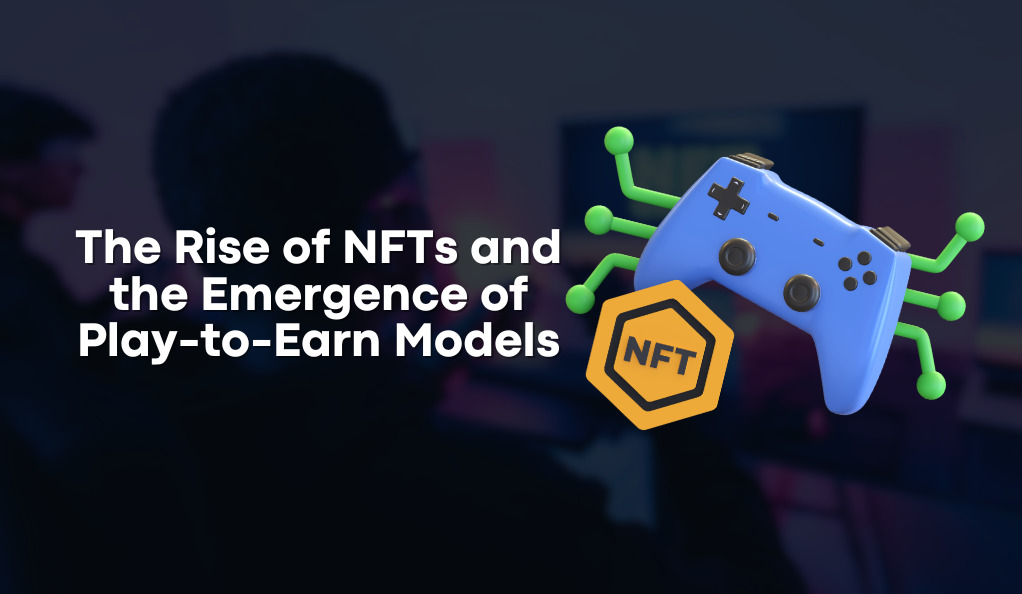 The gaming industry has always been at the forefront of innovation, constantly evolving to provide gamers with new experiences. From the pixelated adventures of the '80s to the immersive virtual realities of today, gaming has undergone a transformation that has redefined entertainment. Now, we stand on the brink of a new revolution, one that merges the realms of gaming with blockchain technology: the era of Non-Fungible Tokens (NFTs) and Play-to-Earn models.
This seismic shift is not just a fleeting trend but a fundamental change in how games are created, played, and valued. The traditional gaming model, where players purchase a game and spend hours unlocking levels or items, is being challenged by a model where playing a game can also mean earning real-world value. This value comes in the form of digital assets and cryptocurrencies, which can be as varied as the games themselves.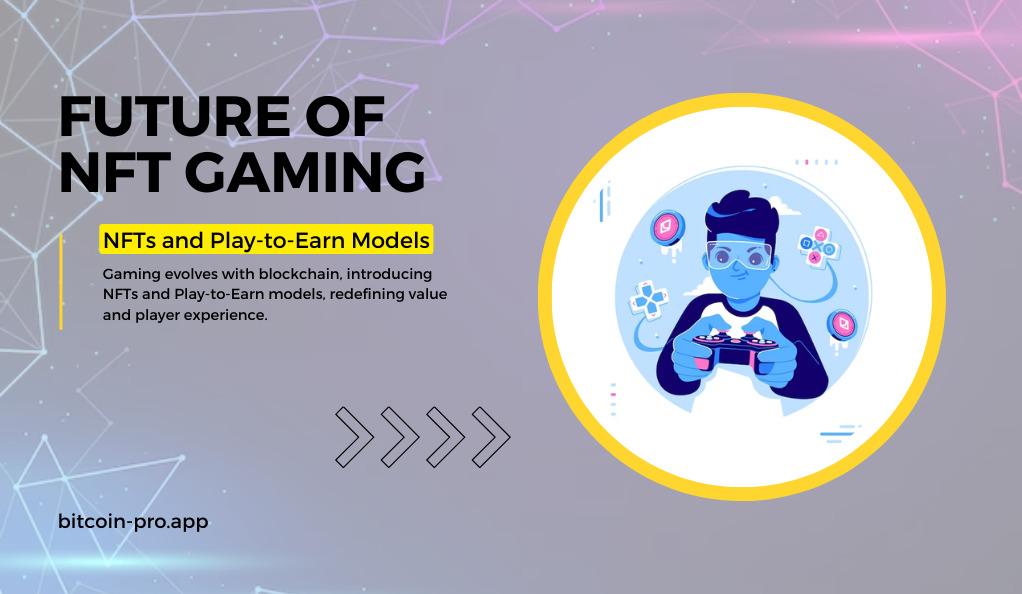 The Evolution from Traditional Gaming to Blockchain-Based Models
In traditional gaming, the value exchange is one-directional: players pay for the game and perhaps in-game items, but the flow of value stops there. Blockchain gaming introduces a bidirectional flow of value. Not only do players invest in the game, but they can also extract value from it through digital assets that can be traded or sold.
Overview of NFTs and Play-to-Earn Mechanisms
NFTs are unique digital tokens that represent ownership of a specific item or asset, often with a proof of provenance. In gaming, these could be anything from a piece of virtual land to a one-of-a-kind sword with special attributes. Unlike traditional in-game purchases, NFTs can be sold or traded on various platforms, and their value can appreciate over time, much like physical collectibles.
Play-to-Earn (P2E) models take this concept further by integrating economic incentives into the core gameplay. Players can earn digital currencies or NFTs by completing tasks, winning battles, or achieving certain milestones within the game. These rewards have real-world value and can be a source of income, turning gaming from a hobby into a potential career.
The fusion of NFTs and P2E models is creating a new type of gaming economy, one that is decentralized and gives players more control over their in-game assets. It's a paradigm that promises to democratize the value in gaming, making it more inclusive and potentially more rewarding for players around the globe.
As we delve deeper into this new era, we'll explore the intricacies of NFTs, the mechanics of Play-to-Earn models, and the profound impact they're poised to have on the gaming industry. Join us as we embark on this journey into the future of gaming, where every player is an investor, and every game is a new frontier of opportunity.
Understanding NFTs in Gaming
The gaming landscape is witnessing a transformative integration of blockchain technology, with Non-Fungible Tokens (NFTs) emerging as a groundbreaking element. These digital assets, unique and indivisible, are redefining ownership and value in virtual worlds. NFTs in gaming go beyond mere collectibles; they represent a paradigm shift where digital items possess tangible value, akin to physical assets in the real world.
What are NFTs?
At their core, NFTs are digital certificates of ownership for any unique piece of data, verifiable via blockchain technology. This data can be anything digital, but within the gaming universe, NFTs often take the form of exclusive in-game items, characters, or even parcels of virtual land. Each NFT has a distinct signature, ensuring its authenticity and rarity, which is particularly appealing in the gaming community where exclusivity and personalization are highly valued.
The Role of NFTs in Gaming Ecosystems
The integration of Non-Fungible Tokens (NFTs) into gaming ecosystems is revolutionizing the industry in several key ways:
True Digital Ownership: Gamers can now experience true ownership of their in-game assets. Blockchain technology ensures that every item can be owned, bought, sold, and traded in a secure and transparent manner, independent of the game's servers or developers' control.
Innovative Gameplay Mechanics: The use of NFTs has led to the introduction of complex economic activities within games, such as asset management and trade, allowing players to engage in financial strategies previously confined to real-world markets.
Interoperability of Assets: NFTs have enabled the use of in-game assets across different games and platforms, provided they share the same blockchain ecosystem. This feature breaks down the barriers between gaming platforms, leading to a more cohesive and expansive virtual experience.
Cultural Shift: The role of players has evolved with NFTs; they now act as investors and collectors, adding a strategic layer to gameplay. The rarity and uniqueness of NFTs also contribute to a player's status within the community, enhancing social interaction and engagement.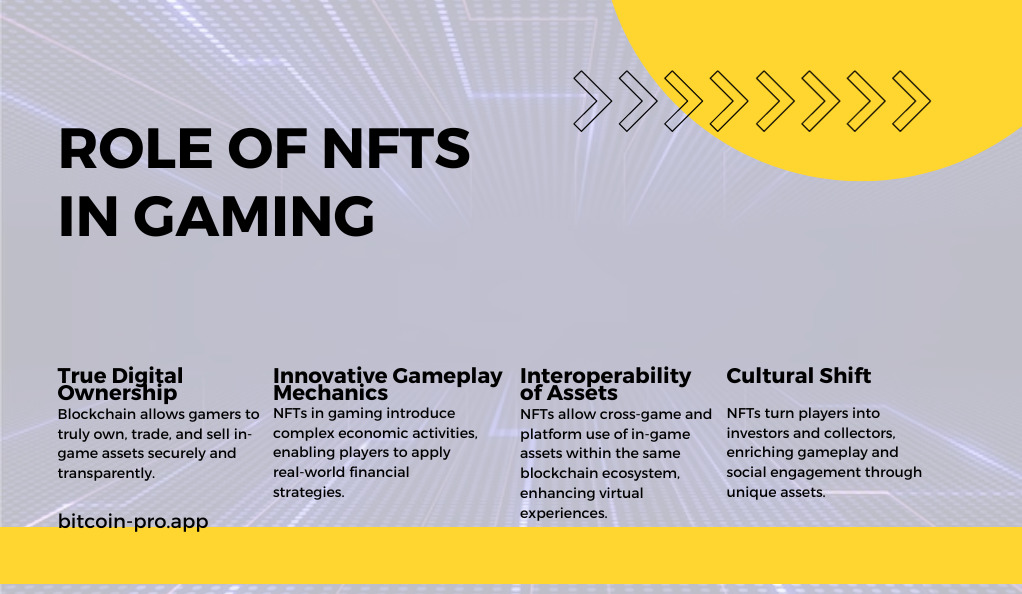 NFTs are not merely an additional type of in-game merchandise; they are the cornerstone of a new digital economy within the gaming world. This technological and cultural shift is empowering players with unprecedented control and investment opportunities in their virtual endeavors. As gaming ecosystems continue to embrace NFTs, they pave the way for a future where every virtual asset holds the potential for real-world value and every player is an integral part of the game's economy.
The Rise of Play-to-Earn Gaming Models
The gaming industry is currently experiencing a monumental shift with the advent of Play-to-Earn (P2E) models, a concept that is reshaping the very foundation of gaming economics. This innovative model not only incentivizes players with entertainment but also offers them a chance to earn real economic value through their in-game achievements and activities.
Definition and Explanation of Play-to-Earn Models
Play-to-earn is a gaming model where players can earn digital assets with real-world value, such as cryptocurrencies or NFTs, by playing the game. Unlike traditional models where the in-game currency has no value outside the game, P2E models allow players to transfer their earnings to the real world. This has been made possible by the integration of blockchain technology into gaming, which ensures secure and transparent transactions.
Economic Impacts of NFT and Play-to-Earn Games
The emergence of NFTs and Play-to-Earn gaming models is not just a blip on the digital entertainment radar; it's a phenomenon that's causing ripples across the global economy. These blockchain-based innovations are crafting new economic landscapes within the virtual realms, where digital assets are as valuable as their physical counterparts.
How These Models Are Reshaping Gaming Economies
The traditional gaming industry operates on a closed economy model, where the financial benefits are largely unilateral, flowing from players to game developers and publishers. NFTs and P2E models disrupt this flow, creating a circular economy where players can also reap financial rewards. This democratization of economic benefits has the potential to attract a wider audience, including those who may not be traditional gamers but are drawn to the financial prospects these games offer.
The Financial Benefits for Players and Developers
For players, the financial benefits are clear: they can earn real money while engaging in a leisure activity. This has been particularly impactful in regions with struggling economies, where P2E games can provide a significant source of income. For developers, the introduction of NFTs opens up new revenue streams. Beyond the initial sale of a game or in-game items, developers can earn a percentage from the secondary market transactions of NFTs, creating a continuous revenue model.
The economic impact of these models extends beyond individual earnings and revenue streams. They are fostering entire ecosystems where third-party services, such as marketplaces for trading NFTs or platforms for renting in-game assets, can thrive. This not only creates more jobs within the gaming industry but also supports ancillary industries that cater to these new markets.
The P2E model, with its financial incentives, is also influencing game design. Developers are now tasked with creating games that are not only fun but also provide viable paths for players to earn. This requires a delicate balance between maintaining engaging gameplay and ensuring the economic viability of the in-game assets.
As the gaming industry continues to explore the full potential of NFTs and P2E models, it's becoming increasingly clear that these technologies are more than just a passing trend. They represent a new frontier in gaming, one that merges entertainment with real-world economic impact, creating opportunities for players and developers alike.
The implications of this shift are profound, signaling a future where the lines between gaming, work, and investment become increasingly blurred. As we look ahead, the gaming industry's role in the broader economic landscape appears to be expanding, promising a future where gaming is not only a source of fun but also a viable economic engine.
Challenges and Controversies Surrounding NFT Gaming
While the integration of NFTs and Play-to-Earn models into gaming heralds a new age of digital ownership and economic opportunity, it also brings its share of challenges and controversies. These issues are critical to address as they shape the perception and future adoption of blockchain technologies in gaming.
1. Intellectual Property Concerns
One of the most pressing challenges is the matter of intellectual property (IP) rights. As game assets become tokenized as NFTs, questions arise about the ownership of the underlying IP. Can a player who purchases an NFT depicting a game character claim rights over that character's image? The answer is often complex and varies from game to game, potentially leading to legal disputes that could stifle innovation and the growth of the market.
2. Environmental Impact and Sustainability Issues
Another significant concern is the environmental impact of blockchain technology, particularly the energy-intensive processes associated with some forms of cryptocurrency mining. As the popularity of NFTs grows, so does the scrutiny over their carbon footprint. This has prompted both developers and players to seek more sustainable options, such as proof-of-stake blockchains, which require significantly less energy than the traditional proof-of-work systems.
The sustainability issue extends beyond environmental impact. The long-term viability of Play-to-Earn games is also under examination. Critics question whether these games can maintain their economies without a constant influx of new players and investment, likening some to pyramid schemes. Ensuring the economic stability of these games is crucial for their survival and for maintaining player trust.
3. Balancing Game Integrity with Monetization
Moreover, the monetization of in-game assets through NFTs raises concerns about game integrity. The potential for pay-to-win dynamics, where players with more financial resources can gain an unfair advantage, is a point of contention. Game developers must navigate these waters carefully to preserve the competitive balance and fairness that are the hallmarks of good game design.
4. Regulatory Hurdles
Regulatory uncertainty is another hurdle. The legal framework for cryptocurrencies and NFTs is still in its infancy, with regulations varying widely by country. This poses a challenge for developers who must navigate a patchwork of laws and for players who may find themselves inadvertently on the wrong side of legal boundaries.
Addressing these challenges is essential for the continued growth and acceptance of NFTs and Play-to-Earn models in gaming. Stakeholders must work together to find solutions that protect players, respect IP rights, minimize environmental impact, and ensure the fairness and sustainability of game economies. Only by tackling these issues head-on can the gaming industry fully harness the potential of these innovative technologies.
The Social Aspect: Communities and Collaboration
The rise of NFTs and Play-to-Earn models has catalyzed not just economic but also social transformations within the gaming industry. These blockchain-based innovations are fostering robust communities and collaborative opportunities that extend beyond the games themselves.
Building Communities in the NFT Space
NFTs have become a social currency in gaming communities, facilitating new forms of interaction and engagement. Players are not just competing or collaborating within the game; they are forming social networks around the trading, collecting, and discussing of NFTs. These communities often extend to platforms like Discord and Twitter, where players share strategies, showcase their assets, and form alliances. The sense of belonging to a community with shared interests and economic goals has become a powerful draw for players.
Collaborative Opportunities and Shared Economies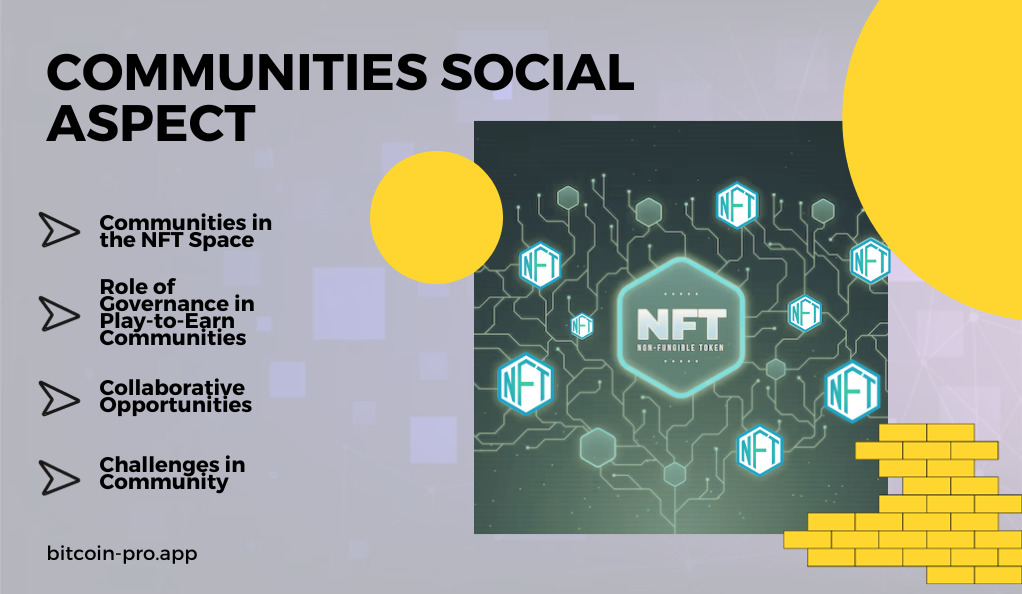 The collaborative nature of many NFT games encourages players to work together to achieve common goals. In some games, players can pool their resources to invest in high-value NFTs or to fund in-game ventures. This collaborative investment model can lead to shared profits and a more interconnected gaming experience.
Moreover, the shared economies created by NFTs and P2E models are blurring the lines between content creators and consumers. Players now have the tools to become creators within the game, designing new assets and experiences that can be monetized. This democratization of content creation is empowering players to take an active role in shaping the game world.
The Role of Governance in Play-to-Earn Communities
Many blockchain games are incorporating elements of decentralized governance, giving players a voice in the development and direction of the game. Through mechanisms like DAOs (Decentralized Autonomous Organizations), players can propose, vote on, and implement changes within the game. This level of player involvement is unprecedented in traditional gaming and is a testament to the community-centric approach of NFT and P2E models.
Challenges in Community Management
However, these new communities also face challenges, particularly in governance and conflict resolution. As players become more invested in the game both financially and emotionally, disputes can arise. Managing these disputes and ensuring fair governance requires careful planning and the implementation of transparent policies.
The social dynamics of NFT and P2E gaming are as complex as they are fascinating. They represent a new frontier where gaming serves as a platform for social networking, economic collaboration, and community governance. As these communities continue to grow and evolve, they will likely become a significant force in the gaming industry, influencing game development and culture.
Future Predictions and Trends in NFT and Play-to-Earn Gaming
As we look toward the horizon of digital entertainment, NFTs and Play-to-Earn models stand as beacons of innovation, signaling new directions for the gaming industry. The potential for growth and evolution in this space is vast, with several trends and predictions shaping the future landscape.
Expert Insights and Market Predictions
Industry experts foresee a continued integration of blockchain technology into gaming, with NFTs becoming a standard feature in many titles. The Play-to-Earn model, particularly, is expected to mature, moving beyond simple transactional dynamics to more sophisticated economic systems that mirror real-world financial models.
The rise of virtual and augmented reality technologies is likely to intersect with NFTs, offering even more immersive and tangible experiences for owning and interacting with digital assets. This could revolutionize the way players engage with NFTs, transitioning from a purely speculative approach to one that is deeply integrated with gameplay.
Upcoming Technologies and Their Potential Impact
Advancements in blockchain technology, such as the development of more energy-efficient consensus mechanisms, are anticipated to address current environmental concerns. This will not only make NFT gaming more sustainable but could also improve public perception and acceptance of these models.
Artificial intelligence is another area that could significantly impact NFT and Play-to-Earn gaming. AI could be used to create more dynamic and responsive game worlds, as well as to personalize the gaming experience. It could also play a role in managing in-game economies, helping to stabilize the market and prevent inflation or other economic issues.
The Role of Regulation
Regulatory frameworks are expected to develop further, providing clearer guidelines for the creation and trading of NFTs. This will likely help stabilize the market and protect consumers, leading to greater confidence among investors and players.
The Future of Game Development
Game development itself may evolve to become more community-driven, with players taking on roles akin to stakeholders or investors. Crowdfunding and community-led initiatives could become more prevalent, with NFTs offering a means for players to have a stake in the success of the games they love.
Conclusion: What the Future Holds for Gamers and Developers
The future of gaming is poised at the intersection of technology, economy, and community. NFTs and Play-to-Earn models are not just passing trends but are indicative of a broader shift towards a more participatory and value-driven gaming ecosystem. As these models continue to evolve, they promise to offer new opportunities for gamers and developers alike, reshaping the industry in ways we are only beginning to understand.
The gaming industry is set to embark on a journey that transcends traditional entertainment, offering a glimpse into a future where gaming is an integral part of the digital economy. The potential for innovation is limitless, and the excitement for what's to come is palpable. One thing is certain: the future of gaming will be anything but ordinary.