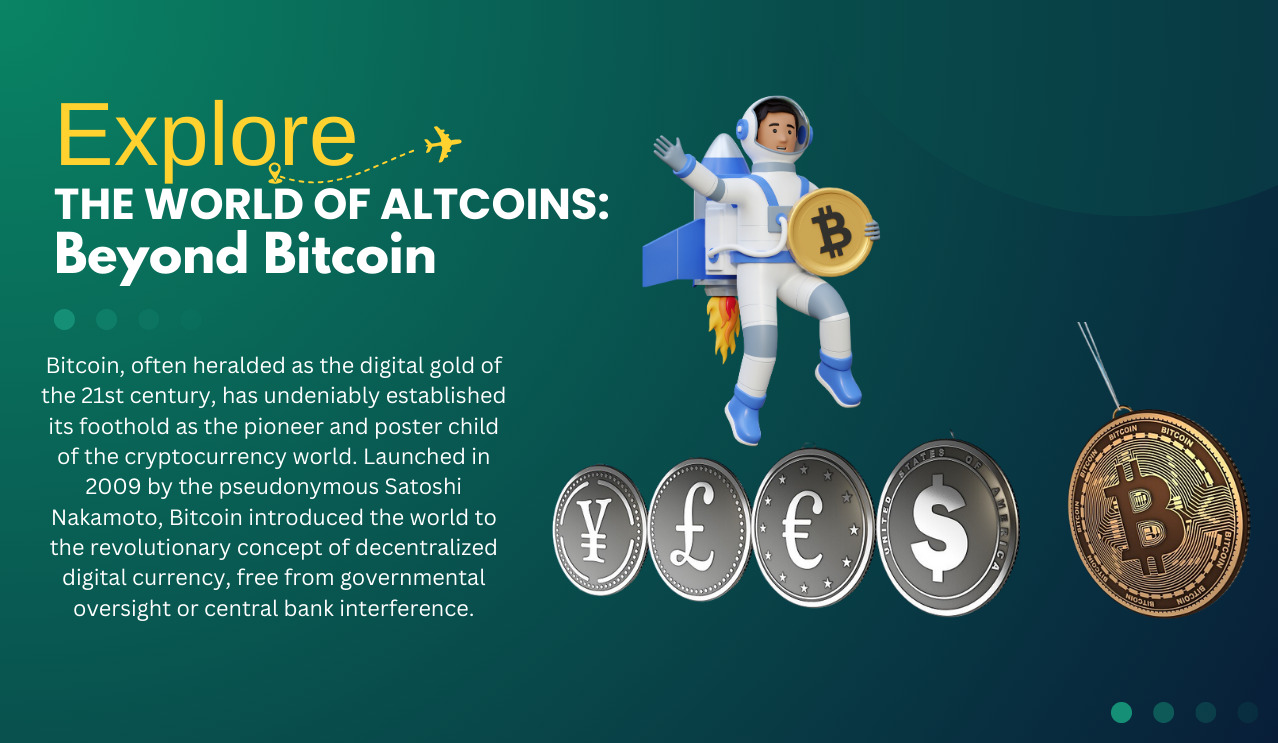 Bitcoin, often heralded as the digital gold of the 21st century, has undeniably established its foothold as the pioneer and poster child of the cryptocurrency world. Launched in 2009 by the pseudonymous Satoshi Nakamoto, Bitcoin introduced the world to the revolutionary concept of decentralized digital currency, free from governmental oversight or central bank interference.
Yet, as groundbreaking as Bitcoin has been, it's just the tip of the cryptocurrency iceberg. Delving deeper into the vast ocean of digital currencies reveals a plethora of alternative coins, commonly termed as "altcoins." These altcoins, derived from the phrase "alternative to Bitcoin," have been emerging in droves, each boasting unique functionalities, technological underpinnings, and promises of transforming various sectors of our economy.
This article aims to shine a light on these lesser-known altcoins, lifting them from the shadow of Bitcoin and showcasing their potential in the continuously evolving landscape of cryptocurrencies.
What are Altcoins?
Altcoins represent the myriad of cryptocurrencies launched after the success of Bitcoin, each striving to propose improvements or serve different niches within the digital economy. The term "altcoin" combines the words "alternative" and "coin," reflecting these cryptocurrencies' aim to offer alternate versions or use cases compared to Bitcoin.
Brief history of the first altcoins
The first altcoins made their debut around 2011, with Namecoin and Litecoin among the pioneers. Namecoin aimed to decentralize domain-name registration, reducing the risk of internet censorship, while Litecoin promised faster transaction times than Bitcoin. These early altcoins set the stage for the diverse ecosystem we see today, encompassing thousands of different cryptocurrencies.
Overview of different types of altcoins
There are several categories of altcoins, each with unique characteristics and purposes:
Utility Tokens: These altcoins provide access to a specific product or service within a network, acting as a 'ticket' for users.
Security Tokens: These are linked to real-world assets and often subject to securities regulations.
Stablecoins: These aim to maintain a stable value by pegging their worth to external assets like fiat currencies or commodities.
Mining-based: These are mined into existence using computational power, similar to Bitcoin.
Pre-mined: These coins are generated before public release, often distributed through Initial Coin Offerings (ICOs).
Notable Altcoins to Watch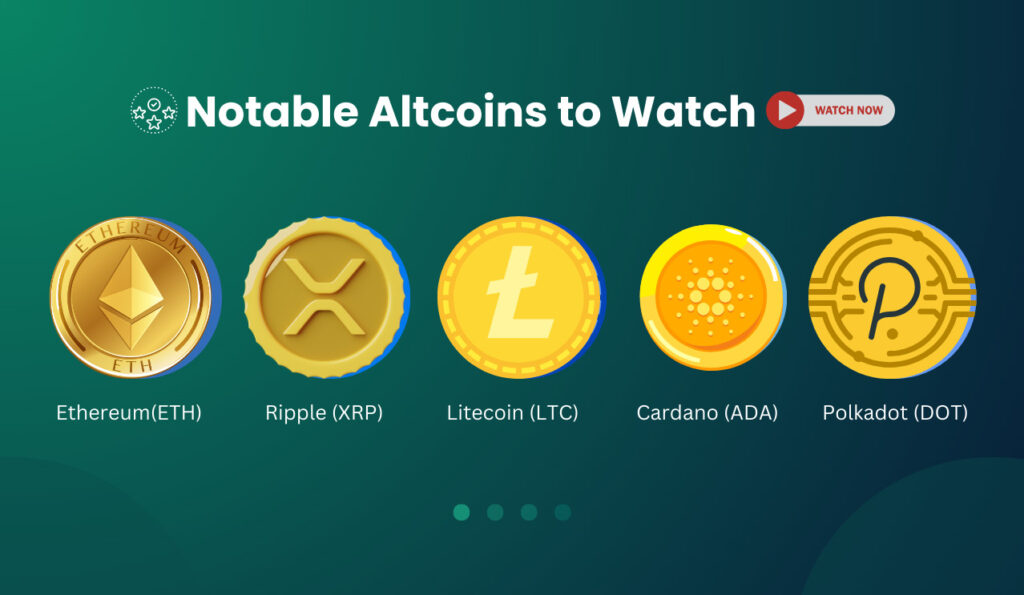 While Bitcoin continues to dominate the market, numerous altcoins have garnered attention for their innovative features and strong community support. Here's a spotlight on a few lesser-known yet promising altcoins:
Ethereum (ETH): While not exactly 'lesser-known,' Ethereum deserves a mention for its smart contract capabilities, enabling decentralized applications.
Ripple (XRP): Known for its digital payment protocol more than its cryptocurrency, Ripple aims to enable secure, instant global transactions.
Litecoin (LTC): Created as the "silver" to Bitcoin's "gold," Litecoin offers faster transaction times and a different hashing algorithm.
Cardano (ADA): Focusing on a research-driven approach to design, Cardano aims to create a more balanced and sustainable ecosystem.
Polkadot (DOT): A multi-chain interchange framework, Polkadot enables different blockchains to transfer messages and value in a trust-free fashion.
Each of these altcoins brings something unique to the table, whether it's faster transaction speeds, smart contract functionality, or innovative consensus mechanisms.
Advantages of Investing in Altcoins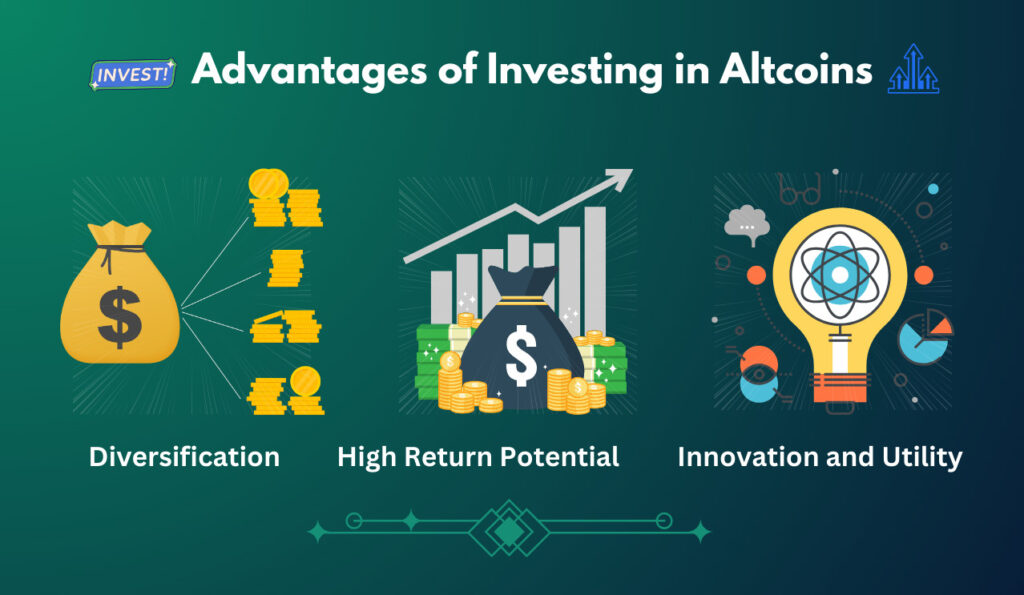 Investing in altcoins can offer several benefits:
Diversification: Just like in traditional finance, diversifying a cryptocurrency portfolio can help manage risk.
High Return Potential: Some altcoins have shown the ability to yield significant returns, though this comes with high risk.
Innovation and Utility: Many altcoins are at the forefront of blockchain innovation, offering unique use cases and solutions.
By carefully researching and choosing promising altcoins, investors have the opportunity to participate in the growth and adoption of groundbreaking technologies.
Risks and Challenges
Engaging with altcoins is not without its risks and challenges, highlighting the need for due diligence and careful consideration. The volatility inherent to altcoins can lead to significant price swings, potentially resulting in substantial gains or losses in short periods. Market risks are prevalent, influenced by factors such as regulatory news, technological advancements, or market sentiment.
Regulatory challenges and security concerns
Furthermore, the cryptocurrency space is still relatively young and evolving, which brings regulatory challenges and uncertainties. Different countries have varying stances on cryptocurrencies, ranging from open acceptance to outright bans, contributing to market instability. Security concerns also loom large, with instances of exchanges being hacked and funds stolen.
For potential investors and users, it is crucial to conduct thorough research, understand the risks involved, and approach altcoin investments with caution and informed decision-making.
How to Get Started with Altcoins
Venturing into the world of altcoins begins with understanding the basics of blockchain technology and how cryptocurrencies operate. The next step involves choosing a reliable cryptocurrency exchange that supports a wide range of altcoins. It is vital to ensure the exchange adheres to robust security measures to protect users' assets.
Overview of cryptocurrency exchanges and wallets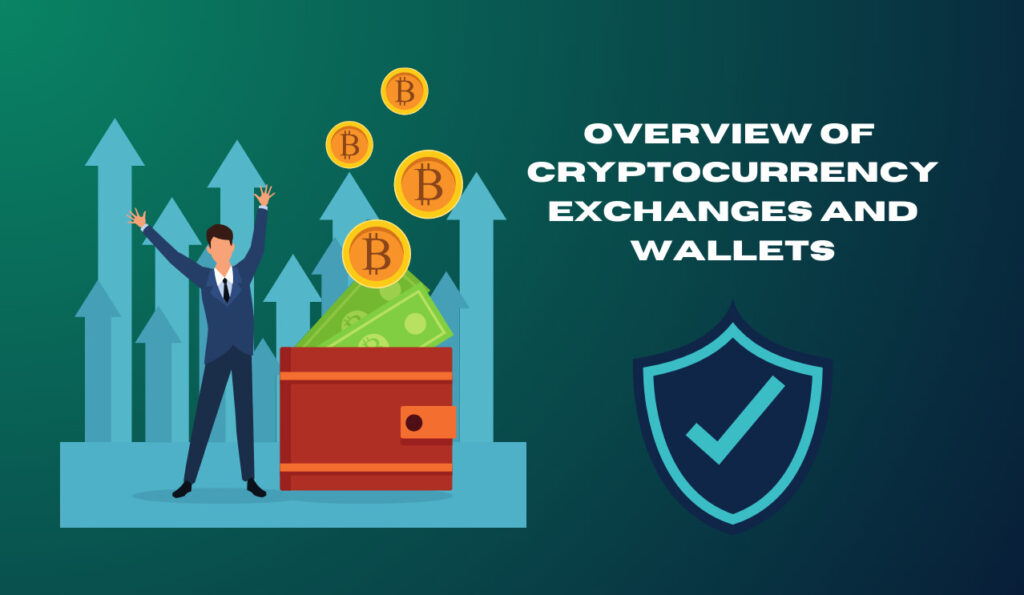 Creating a secure digital wallet to store altcoins is an essential part of the process, as it provides control over the cryptographic keys associated with the user's assets. Educating oneself on safe investment practices, such as not investing more than one can afford to lose and avoiding making investment decisions based on hype, is imperative.
For those looking to delve deeper, participating in online forums and following industry news can provide valuable insights and keep one updated on the latest developments in the altcoin space.
The Future of Altcoins
The landscape of altcoins is continually evolving, with new projects and innovations emerging regularly. The potential for these digital assets to transform various industries is immense, from finance and supply chain to healthcare and beyond. However, the journey ahead is not without hurdles, and the altcoin space will need to address challenges related to scalability, interoperability, and regulatory compliance.
Role of altcoins in the broader cryptocurrency ecosystem
The role of altcoins in the broader cryptocurrency ecosystem is becoming increasingly significant, as they contribute to a more decentralized and diverse digital economy. Whether or not these altcoins will achieve widespread adoption and acceptance remains to be seen, but what is clear is that they have opened up new possibilities and discussions around the future of money and digital assets.
Conclusion
Altcoins represent a dynamic and innovative world beyond Bitcoin, offering diverse functionalities and use cases. However, their potential for high returns comes with volatility and regulatory uncertainties. As the cryptocurrency space evolves, altcoins will shape the future of digital finance, impacting various industries and the global economy.
Whether you're an investor, tech enthusiast, or curious about cryptocurrencies, altcoins provide a fascinating subject for exploration. Their journey is ongoing, promising continuous development and reshaping of the digital asset landscape, offering a glimpse into the potential of blockchain technology and decentralized systems.